Horses for Sale
Please keep up with our website as we will be adding several more sale horses
We are very motivated to sell these horses so please call for anymore information
Lucinda
C3 Dixie's Blackun Lucinda
Somewhere Doc's Blackun Decker x Joseph Lake's Dixie
Very promising yearling filly. She is very correct. Has a nice neck on her. Solid foot, you could shoe her up as big as you want. Clean hocks. This would be a fun mare! She could be haltered or later put in harness. Her mother is in the wheel of our six horse hitch.
Kara
Joseph Lake's Kara – 26717
Country Side Royal Senator x Joseph Lake's Daisy
Kara has four white legs, jet black. She is going to be a big mare, 17.3-18 hands when she is finished. She is going to be started in harness soon. Wheel horse prospect. Big feet. Nice mare.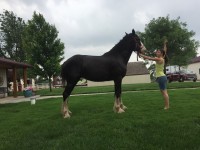 Lola
Joseph Lake's Lola – 26718
Tartan Macleod x Joseph Lake's Lucy
This mare is not a yard ornament. She needs someone who can handle an active horse. She is not mean or dirty just hasn't been handled much. She is going to be started in harness. I think she will make an exciting hitch horse. She has very clean sweet hocks. Has a good solid foot as well.